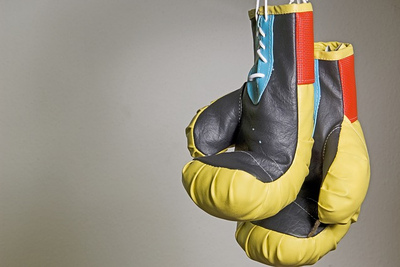 Typically, there is always something on the line in boxing at any level. Whether it's a fight for a belt, to climb the ranking ladder or to settle bad blood, every time a pugilist steps between the ropes there's significance to it….not least the fact that your opponent will happily punch your head clean off your shoulders without a second thought.
When Genady Golovkin and Saul 'Canelo' Alvarez lock horns for a second time in the early hours of Sunday morning, there's something altogether more prestigious on the line.
Both can lay claim to being the best pound-for-pound fighter on the planet – albeit Canelo's tainted by a failed drugs test for the banned stimulant Clenbuterol, and so the showpiece clash in the Paradise region of Las Vegas this weekend will go some way to proving each's theory.
Settling the Score
It's almost a year to the day since they first slugged it out in the original contest which ended in a split draw: one judge scored the fight as a stalemate, another had Golovkin 115-113 ahead and the third, inexplicably, made Alvarez a comprehensive winner at 118-110. The full judges scorecard is shown below.
Adalaide Byrd
Dave Moretti
Don Trella
Round
Canelo
GGG
Canelo
GGG
Canelo
GGG
1
10
9
10
9
10
9
2
10
9
10
9
10
9
3
10
9
9
10
9
10
4
9
10
9
10
9
10
5
10
9
9
10
9
10
6
10
9
9
10
9
10
7
9
10
9
10
10
9
8
10
9
9
10
9
10
9
10
9
9
10
9
10
10
10
9
10
9
10
9
11
10
9
10
9
10
9
12
10
9
10
9
10
9
Total
118
110
113
115
114
114
In truth, most pundits were split and a case for either could be made. Canelo is, and looked, the better technical fighter, working off the back foot and catching the Kazakhstani with some sublime counter punches.
Golovkin only really knows one way to fight, and that's to plough forward and look to knock out his opponent with concussive head shots; safe in the knowledge that he will be caught himself. No-one is yet to really test the GGG chin.
It's a clash of styles in the ring, and now a clash of personalities too. Golovkin, so often a gentleman before and after the fight, claims he saw 'injection marks' on Canelo's body and arms during their first bout – hinting at drug misuse – even though the Mexican's failed test came later in the year, not immediately after their fight.
And it seems as if Alvarez is not best pleased with his integrity being questioned. "I'm bothered by all the stupid things they've been saying," he told reporters. "I don't know which one to laugh about or get angry about at this point, but their statements are all excuses for the loss they will take this Saturday.
"I have been using all of these statements as motivation for my fight on Saturday. I know that it can be dangerous to go in the ring with a hot head, but I have experience.
"I know how to use this anger in the ring intelligently."
In the Interim
There has been a double dose of bad news for Canelo. His two failed drugs tests – which he attributed to eating tainted meat in Mexico – meant the original date for the rematch was shelved, and a subsequent knee operation has further hampered the Mexican's progress.
That's not to suggest he won't be in 100% fighting shape come Sunday, but we have to confess there are 'unknowns' for punters to deal with.
In the past 18 months, Golovkin has beaten the dangerous Daniel Jacobs, drew with Canelo and then knocked out Vanes Martirosyan, who afterwards admitted that being punched by GGG was like 'being hit by a train'.
"That's the hardest puncher I've ever faced." – Vanes Martirosyan keeps it ? with @maxkellerman following the GGG knockout. #GGGVanes pic.twitter.com/9clp9BAsXL

— HBOboxing (@HBOboxing) 6 May 2018
Alvarez, on the other hand, has only fought Golovkin and a washed-up Julio Cesar Chavez Jr in that timeframe.
Canelo vs Golovkin 2: The Verdict
There are more factors swaying us towards GGG than Canelo here, although his odds of 4/6 are a touch short in what is essentially a 50/50 fight.
The Mexican's drug ban will require him to shake off the rust of a year's absence from the ring, and we simply have no idea whether that invasive knee surgery will impact upon his intelligent movement and sharpness.
GGG, we know, will fight as he always does: plodding forward and throwing barbaric combinations. He gets hit every time he fights, but the tough-as-teak Kazakh rarely seems to feel – or at least show – any pain.
The skills of Alvarez are absolutely not in question – he is one of just a couple of fighters to take a judge's card against Floyd Mayweather – and backing the Mexican to win on points at 15/8 is not the worst bet every placed.
But it is hard to bet against the unbeatable, and that's exactly what Golovkin remains to this day. Even when the going is heavy, he seems to find a way to get the job done, and a late stoppage victory over Canelo, brought about by his train-like punches, would be a fine way to cap a remarkable career.
At 5/2 to win by KO or TKO, GGG is the man for the job on Sunday.